---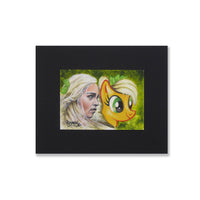 This painting is currently at auction on Ebay, please visit: https://www.ebay.com/itm/266525481138
Pony's need mothers too! Who better than the mother of dragons.
Daenerys Stormborn, Game of Thrones fan pop art.
Acrylic on Illustration Board with vintage style black mat, ready to frame.
Painting is 3.5" x 2.5" inches and mat is 5.75" x  4 5/8" inches.
Free shipping within the US!
Sorry no international shipping at this time.
Bryan Steward, All Rights Reserved.