---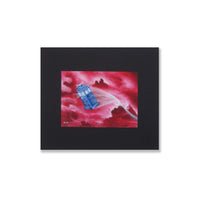 This painting is currently at auction on Ebay. Please visit: https://www.ebay.com/itm/256279440148
Just another sexy Tardis painting from Doctor Who.
Acrylic on Illustration Board with vintage style black mat ready to frame.
Painting is 2.5" x 3.5" inches and mat is 5.5" x 4.5" inches
Free shipping within the US!
Sorry no international shipping at this time.
Bryan Steward, All Rights Reserved.