---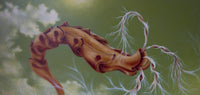 This painting is currently at auction on Ebay.
Please visit: https://www.ebay.com/itm/256310699889
This plant is how birds originally got there feathers so they could fly.
Oil on board with wood cradle, ready to hang.
Piece is 11.5" x 23.5"x 1.5" inches.
Free shipping within the US!
Sorry no international shipping at this time.
Bryan Steward, All Rights Reserved.