---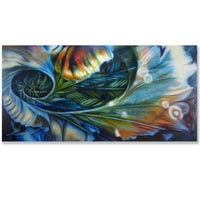 If you don't look close when out in the northern wilderness in the autumn you might miss this very rare blooming feather. It only can happen when the feather of a young mountain jay lands on the seed of a wild orchid.
Oil on wood panel with cradle and ready to hang.
Piece is 24" x 48" inches.
Free shipping within the US!                                                                     
Sorry no international shipping at this time.
Bryan Steward, All Rights Reserved.