---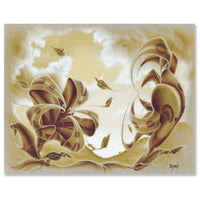 Just because you see two flowers doesn't mean that's who's meeting. Maybe it's the two squirrels way off in the distance that are having the meeting.
Acrylic on clear primed linen and ready to hang.
Piece is 18" x 24" inches.
Free shipping within the US!
Sorry no international shipping at this time.
Bryan Steward, All Rights Reserved.